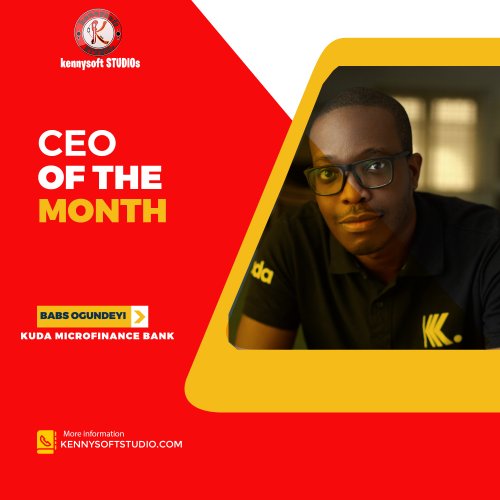 MEET BABS OGUNDEYI CEO OF NIGERIA'S FIRST DIGITAL BANK
EARLY LIFE AND EDUCATION
Born in the United Kingdom, Babs Ogundeyi is the CEO/MD and the founder of Kuda Bank. He is an expert in finance having started his career and studied in Brunel University, London in the United Kingdom. Over the past years, Babs has worked in both the private and public sector of finance.
He has spent most of his life in London where he attended King's college Taunton.
Babs Ogundeyi's wife is Honey Oyindamola Ogundeyi. She is a fashion tech, CEO of Fashpa, an entrepreneur, Innovator and a vlogger.
Oyindamola Honey Ogundeyi started her secondary education at Queens College Yaba, Lagos and finished her secondary education in Alexandra College in Dublin, Ireland. She then proceeded to the University of Birmingham and graduated with a BSc in Public Policy and Management.
BUSINESS AND CAREER:
Babs Ogundeyi is Chief Executive Officer and Co-founder of Kuda Bank, Nigeria's first digital-only bank that makes banking more accessible and affordable. In November 2020, Kuda raised a $10 million seed round and recently, its Nigeria subsidiary – Kuda Microfinance Bank acquired over one million customers. Babs Ogundeyi possesses strong expertise in the financial services industry, having previously spent years auditing and advising some of Africa's biggest financial institutions.
In his previous capacity as Special Adviser on Finance to the Governor of Oyo State, Nigeria, Babs Ogundeyi raised the largest infrastructural bond in the state's history.
Babs Ogundeyi has an impressive educational background. He holds a bachelor's degree in Business Studies and Accounting from Brunel University, London.
You can also read: MEET THE CEO OF NIGERIA'S MOST TECHNOLOGICALLY ADVANCED ROAD TRANSPORT COMPANY
Before Kuda, Babs cofounded Kudimoney, Nigeria's first online lending and savings platform before receiving license from the Central Bank of Nigeria and rebranding to Kuda in 2019.
Babs was also Special Adviser to the Oyo State Government on Finance from 2011-2015. As Special Adviser, he served as Head of the state's Microfinance Bank, transforming it from a $2 million loss position into a profit-making entity within four years. He was as well responsible for raising capital in the state and successfully led the largest Bond raise in the state's history – a ₦55 billion bond program. Babs also successfully set up the Public-Private Partnership (PPP) office and Debt Management Office (DMO) and created products to effectively boost Internally Generated Revenue.
As a value-driven entrepreneur, Babs also cofounded Motor Trader Nigeria, the first classified car magazine in Nigeria, which was sold to a major Newspaper company after one year of launch.
Babs is recognized as one of Nigeria's top 10 covid-19 innovators for his efforts in curbing the effects of the pandemic. In 2020, his mobile banking outfit launched a ₦1.5 million Covid-19 fund targeted at catering for the less privileged in Lagos State. During the execution, the bank partnered with Lagos Food Bank, a non-governmental organization to enable more transparency, responsibility and diligence.
Just recently Kuda Bank raised $55 million in a Series B round at a valuation of $500 million. This comes just a few months after raising a $25 million Series A round. The current $500 million valuation puts the company's naira value at ₦205.75 billion using the central bank's official exchange rate of ₦411.50 to $1
Babs Ogundeyi's passion for solving complex problems and creating groundbreaking ways to make life easier is demonstrated in his constant innovation in the financial scene. We celebrate Babs for creating a seamless financial solution in the Nigerian fintech space.
REFERENCES:
https://naijabuzz300.com/babs-ogundeyi-biography-net-worth-age-kuda-bank-wife-email-careers-early-life/
https://refinedng.com/babs-ogundeyi/
Share