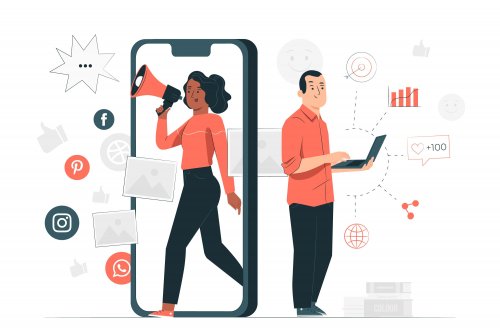 The Power of Social Influencer and How to Leverage on It as An Entrepreneur
One lesson we all should learn as entrepreneurs from the viral burial of obi cubana's mother is the power of social influencers. The one reason the burial went viral was because of the amount of social influence those celebrities at the event had, let's take cubana chief priest as an instance chief priest has about 2 million plus follows on Instagram along that's a lot of influence. As business people we should learn how to leverage influencer marketing in our marketing activities before the burial went viral obi cubana had about 780k follows on Instagram as the burial went viral obi cubana had 1 million followers and still counting, his Instagram account was instantly verified. The burial became the most discussed topic in Nigeria, the word obi cubana instantly because the most searched word on Google, every blog is posting about it. If the burial was to be a marketing campaign it will be one of the most successful marketing ever done in Nigeria.
What's your take out from the burial as a micro or small business owner? it's simple seek the attention of the media because they have a lot of power to make your business an instant success.
Someone is reading and will like abeg which one be social influencers again oh! Let me explain if you are that person. A social media influencer is a someone who has established credibility in a specific industry, has access to a huge audience and can persuade others to act based on their recommendations. An influencer has the tools and authenticity to attract many viewers consistently and can motivate others to expand their social reach. Influencers are opinion leaders with a social following base. They appear as experts or trustworthy sources of information. You may be like how do it even work.
How do you do that, seek the attention of a social media influencer with a huge active followship to talk about your business,
Here are some tips on how you can do just that.
Do your homework and get to know the influencer before reaching out to them

Always start by appreciating their work before making a pitch

Clearly highlight what you're offering in return for their effort

Get to-the-point, mention everything relevant, but don't make your message too long

Be respectful and leave scope for further discussion and negotiation

Follow-up if they do not reply to your first message

Pay bloggers with huge potential reader to write about your business.

Another great way to leverage social media and influencer marketing is to ask influencers to create testimonial videos of your product and share it on social media. Influencers are influencers for a reason and that reason allows their audience to trust their reviews and recommendations.

You can leverage social influencers to organize contests and giveaways and boost sales for your ecommerce store. People love to win free stuffs.
it's that simple, if you can get the attention of the media, you have everyone's attention. They got the power leverage on it.
Article was originally written for https://www.entrepreneurshipsecret.com/social-influencer/
Share