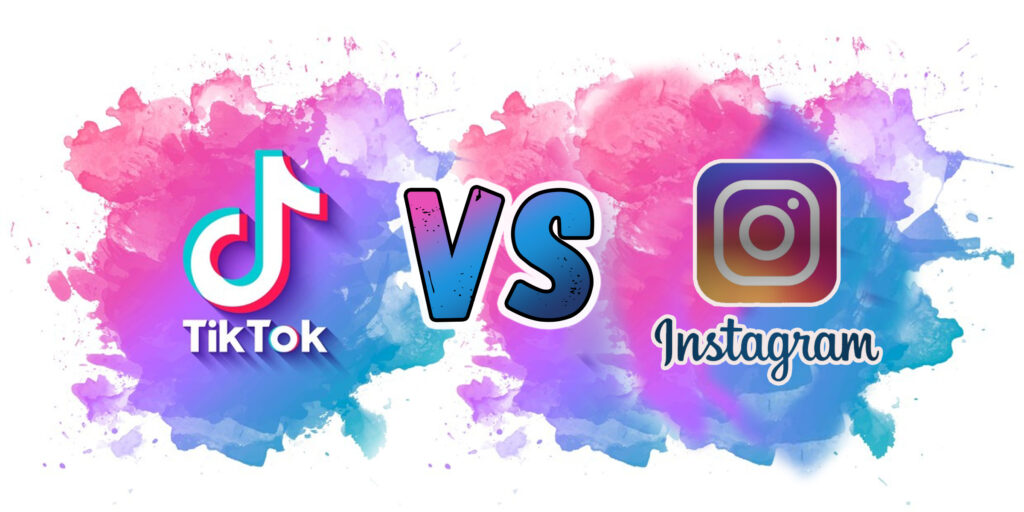 Tiktok Vs Instagram Introduction
There is always an augment between tiktok vs Instagram which is the world No 1 video sharing platform and advertiser on a tight budget are always finding it difficult between choosing tiktok vs Instagram which to spend their advertising budget on.
Tiktok Vs Instagram The War For The No 1 Video Position
It's always a fight for everyone especially generation Z, there is always this question people always ask between tiktok vs Instagram which should I spend more of my time on, so today we are going to answer all your questions and give our suggestions on both platforms so without further ado lets dive in to get all your questions answered on the tiktok vs Instagram war.
If you don't know Instagram's influencer market is estimated to be worth over $13.8 billion dollars. More than half a million sponsored posts have been posted on Instagram in 2021 so far. While 89% of marketers say Instagram is the most important channel for influencer marketing, newcomer TikTok has quickly become one of the most popular platforms in the world in less than two years and a rising platform for influencers.
The Coronavirus stay-at-home order seems to have only escalated TikTok's new user growth. TikTok became the most downloaded non-game app worldwide during March 2020 with more than 115.2 million installs. For comparison, in 2019, Instagram only averaged 111.5M downloads per quarter.
Just like Instagram, TikTok gives users of the app the ability to like, comment and share, however, it stops there. There aren't options to repost or save content, however the app continues to have an impressive 689 million monthly active users globally as of 2020, Just recently tiktok announce an active user of 1 billion monthly active users globally.
It is known for its virality and one-of-a-kind content, making it so unique and impactful when it comes to influencer marketing.
Tiktok Vs Instagram Comparison
As a brand, there are multiple ways to get involved with a TikTok influencer. This includes creating challenges, which often go viral, meaning this is a sure-fire way to get your brand, its products, and services, noticed.
65% of TikTok's users are between the ages of 16 and 25, which is something brands should be mindful of, ensuring that this also correlates with their own target audience and their demographics.
TikTok also offers analytics tools, where metrics such as video views and profile views can be found, as well as useful information about an account's followers, which is particularly beneficial for brands when seeking a new partnership or collaboration.
Now, Instagram is the most popular social media app when it comes to influencer marketing, however, that doesn't mean it is the best for you and your brand.
The needs of each business differ greatly, and so, this changes the platforms in which you need to utilise.
Instagram is so popular due to its versatility. With the ability to create and share professional-looking photographs, as well as short and long-form videos, Instagram caters for almost everyone, but that also depends on your target audience, too.
The content we see on Instagram is very much carefully curated – on main feeds, anyway. Instagram Stories are great at showing real-time content that is much more 'off-the-cuff', and features such as Reels and IGTV allow influencers to showcase their creativity and passion for content creating.
The largest portion of Instagram users are aged between 25 and 34 years old, so, to get the very most out of your influencer marketing campaign, this should resonate with the target audience of your brand.
Since brands have been using Instagram for paid ads and Influencer marketing for a long time, the site has earned a reputation among users as an ad space.
Tiktok Vs Instagram Conclusion
Both social media apps offer their users an entirely contrasting experience. With differing audiences and a completely different offering in content, TikTok and Instagram are great for influencer marketing campaigns for their very own reasons.
In terms of TikTok vs Instagram, it isn't necessarily a case of which trumps the other, but which best suits your brand.
Think about your target audience and consider the content you'd like to represent your brand and its products or services, and you'll find your answer.
Thinking of creating a video to help increase your social media engagement online then Nigeria's #1 video marketing agency got you covered contact kennysoft STUDIOs