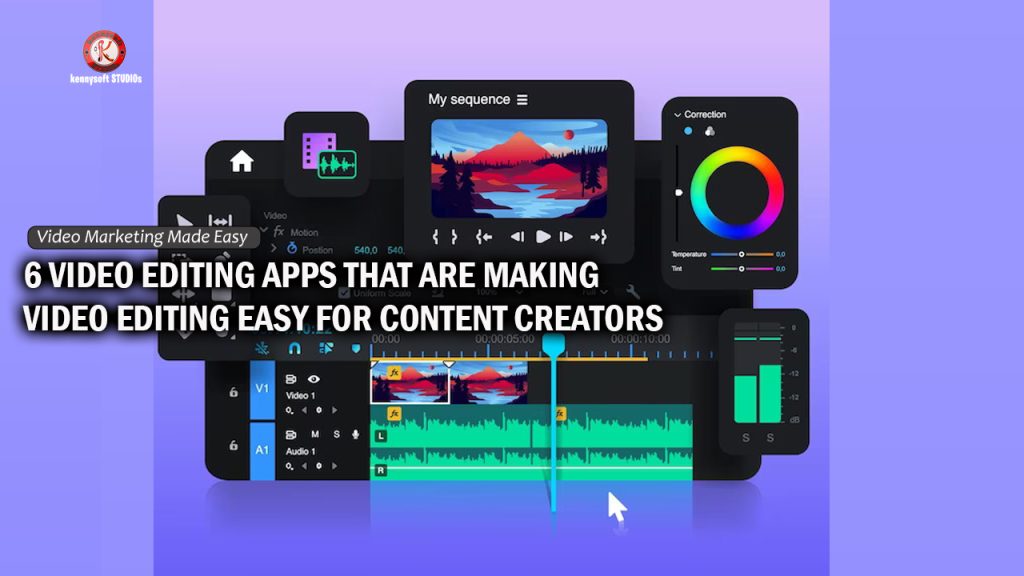 In today's age of digital content creation, video editing has become an essential skill for content creators across various platforms. Whether you're a YouTuber, Instagram influencer, or just someone who enjoys sharing videos with friends and family, having the right video editing app on your mobile device can make a world of difference.
Fortunately, there is a wide range of mobile video editing apps available that are making video editing easier and more accessible for content creators. In this article, we will explore six of these apps that have been gaining popularity for their user-friendly interfaces and powerful editing features.
Top 6 Video Editing Apps That Are Making Video Editing Easy For Content Creators
Adobe Premiere Rush is a mobile video editing app that brings the power of Adobe's professional video editing software to your smartphone. It offers a user-friendly interface with a variety of editing tools, including trimming, cutting, and adding transitions. You can also adjust color, audio, and apply special effects. The app seamlessly syncs with Adobe Premiere Pro, allowing you to start your project on your mobile device and continue working on it later using the desktop version. It's available on both iOS and Android.
CapCut (formerly known as Viamaker)
CapCut, developed by Bytedance, the creators of TikTok, is a user-friendly video editing app that is quickly gaining popularity among content creators. It offers a wide range of features, including video trimming, cutting, adding music, text, and stickers, as well as advanced tools like keyframing and speed adjustments. CapCut is known for its intuitive interface and ease of use, making it an excellent choice for both beginners and experienced video editors.
Platform: Android and iOS
Price: Free with in-app purchases
FilmoraGo is a mobile video editing app developed by Wondershare, known for its desktop video editing software Filmora. This app brings the simplicity and effectiveness of the desktop version to your smartphone. It offers a wide range of features like themes, transitions, music, and effects. The intuitive interface makes it easy for beginners, while advanced users can explore more complex editing options. FilmoraGo is available on both iOS and Android.
InShot is a popular mobile video editing app, especially among Instagram and TikTok users. It's known for its simplicity and user-friendly interface. InShot allows you to trim and cut videos, add music, stickers, text, and even apply filters. You can also adjust video speed, create collages, and add borders. This app is available for both iOS and Android and offers a free version with a watermark and a pro version for additional features.
iMovie, developed by Apple, is a user-friendly video editing app exclusively available for iOS devices. This app is perfect for those who want to create professional-looking videos with ease. iMovie offers an intuitive interface that allows users to splice and arrange clips, add transitions, incorporate music, and even apply various visual effects. The app's simplicity makes it an excellent choice for beginners, while its robust feature set appeals to more experienced editors.
Kinemaster is a versatile video editing app available on both iOS and Android platforms. What sets Kinemaster apart is its extensive range of features, including multi-layer video and audio editing, precision control over video speed, and the ability to add text and stickers. The app is user-friendly, making it an excellent choice for beginners, and it also caters to more advanced users with its Pro version, which unlocks even more editing capabilities.
Conclusively
Video editing has never been more accessible, thanks to these mobile apps. Whether you're an aspiring content creator or a seasoned professional, these apps cater to a wide range of editing needs. Each app has its unique features, so you can choose the one that best suits your style and requirements.
CapCut, with its user-friendly interface and powerful editing tools, stands out as an excellent choice for content creators. However, the other apps on this list are equally valuable in their own right and provide various options for users with diverse editing needs. The key to successful video editing is to experiment with different apps, find the one that suits you best, and let your creativity shine through your content. Happy editing!