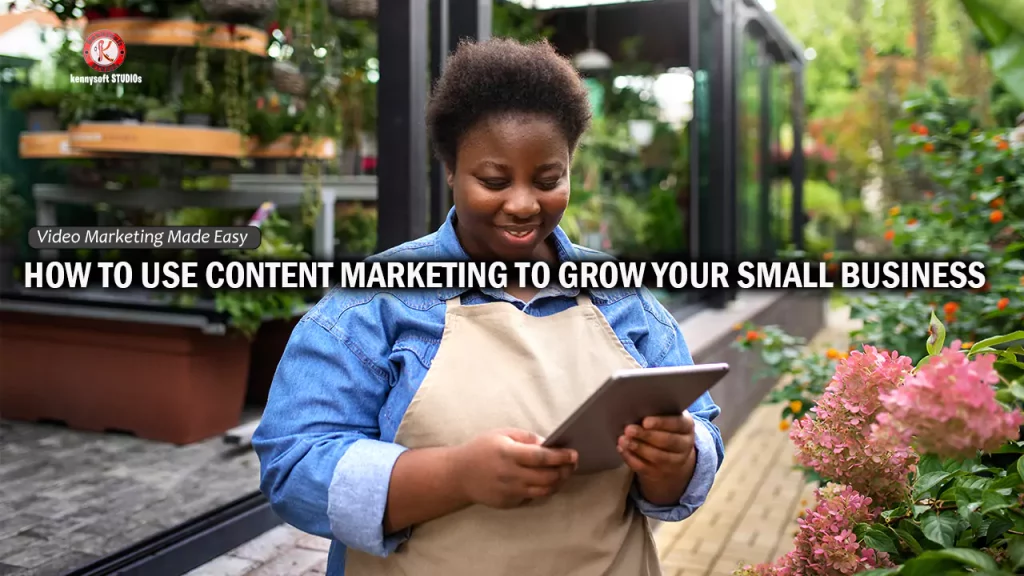 You may have heard this multiple times content is king. You may be wondering why so? Content marketing has become a powerful tool for small businesses looking to grow their online presence and connect with their target audience. Unlike traditional advertising, content marketing focuses on creating valuable and relevant content to attract and engage potential customers. In this article, we will explore the strategies and tactics that small businesses can use to harness the power of content marketing to fuel their growth.
Let's Get Some Answers To These Questions About Content Marketing
What is Content Marketing?
Content marketing is a well-established marketing system that advocates the use of relevant, informative, and catchy content for customer acquisition and retention. It adds an extra dynamic to advertising by adding value for the target customers. The content is ultimately used to shape customer opinion and influence action. The content used be of any type, including articles, podcasts, and videos. Short format videos are an example of an emerging and impactful mode of content marketing.
Content marketing is a long-term strategy that needs thorough planning and excellent execution. The returns from content marketing tends to increase exponentially over time, with barely perceptible returns in the beginning. With proper planning and execution, these returns can skyrocket before long.
Why is content marketing a necessity for modern businesses?
The first banner ad on the internet was placed in 1994, with about 44 percent of the visitors clicking on it. The average clickthrough rates (CTR) of traditional advertising approaches have been decreasing ever since, ultimately settling at a lowly 0.43% in 2022.
This has made traditional advertising a footnote in the marketing strategies of modern brands. To get a respectable return on ad spend (ROAS), it has become necessary to explore new avenues. It is interesting to note that content marketing has been around since the pre-internet days, and is being rediscovered by modern ecommerce businesses.
Content marketing allows you to create a sustained impression on the mind of your customers. Compared to traditional marketing practices, the customer is less likely to become skeptical of your marketing tactics as the primary focus remains on the useful content being provided. The key to a successful content marketing strategy lies in the proper balance of quality content and product placement.
How can you use content marketing to influence your target audience?
If you are new to the world of content marketing, you might have difficulty understanding how exactly you can drive consumer decisions through high-quality content. While you need to formulate a customized strategy for your business, the framework largely depends on the type of your business. We have created a quick guide to help you understand how you can impact your customers through content marketing.
Why use content marketing for small businesses?
One of the biggest challenges small businesses face is effectively reaching potential customers. Creating healthy brand awareness is difficult to support without large budgets to fund massive marketing campaigns. This is why building an ever-growing library of valuable content that speaks to both your customers — and search engines — is key.
By putting pen to paper, you can turn the odds in your favor.
When you publish content online that helps educate your ideal customers and find you, the content continues working for you long after you wind down for the day. And, as you add to this content, your online presence grows steadily stronger.
Think of content marketing like a garden: After a few long, laborious days at the beginning of the growing season — planting seeds, adding nutrients, providing enough water and sunlight — your beds reward you with lots of blooms and beauty that last the entire growing season. You'll have to weed and water regularly, but once a garden bed is fully established, it grows well for some time.
For small businesses, the fact that content never sleeps and continues working, gathering prospects and leads, even while you sleep, is only one of the many perks.
Content marketing also helps small businesses:
Reduce marketing costs: In general, content marketing costs 62% less than traditional marketing while producing three times the leads.
Increase search engine ranking and organic website traffic volume: When publishing content on your website, your goal is to rank well so prospects can find you. Research shows 95% of all organic clicks originate from the first page of search engine results, and the top five results gather about 67% of that. In short, if a small business is going to be found, its content needs to be high up in the search engines to make a difference. Content marketing done right will help you do this.
Shorten sales cycles: You can create sales enablement content designed to close deals faster. This is what we call assignment selling, where sales reps use educational content about products and services to resolve concerns and answer prospects' questions before they get closer to making a purchase.
Establish thought leadership: This is where you showcase your subject matter experts (SMEs), which could be you or someone you hire who knows your products and services inside and out. When SMEs write your content or appear in your videos, your prospects will learn so much more — and the more people learn from you, the more they trust your business and feel comfortable buying from you.
Build trust with your target audience: The more people learn about your business and how you can help them, the more honest content you create for them to consume, and the more they get to know you and want to buy from you. Be honest and transparent with your content, and your target audience will appreciate your candor.
Compete with larger, big-box stores: As you improve your online presence and make it easier for people to learn how your solutions help them solve their problems, it enables your business to compete with the bigger brands in your industry. Content marketing truly levels the playing field and gives everyone the opportunity to succeed, not just the businesses with monstrous marketing budgets.
Now that you understand why you should be implementing a content marketing program for your small business, let's take a closer look at how small businesses do it.
Here Are Ways On How To Use Content Marketing To Grow Your Small Business
1. Define Your Audience
The first step in successful content marketing is understanding your target audience. Who are your ideal customers? What are their needs, preferences, and pain points? Conduct thorough research and create buyer personas to gain insight into your audience's demographics, interests, and behaviors. This information will serve as the foundation for your content strategy.
2. Set Clear Goals
Effective content marketing requires clear objectives. What do you want to achieve with your content? Whether it's increasing website traffic, generating leads, boosting sales, or establishing thought leadership, setting specific and measurable goals will help you track your progress and adjust your strategy accordingly.
3. Create High-Quality Content
Quality should always take precedence over quantity. Develop content that educates, entertains, or solves problems for your audience. This can include blog posts, videos, infographics, ebooks, podcasts, and more. Consistency is key – maintain a regular posting schedule to keep your audience engaged.
4. Optimize for SEO
Search engine optimization (SEO) is essential for ensuring your content gets discovered by your target audience. Conduct keyword research to identify relevant keywords and phrases, and optimize your content accordingly. Use descriptive titles, meta descriptions, and high-quality backlinks to improve your content's search engine rankings.
5. Promote Your Content
Creating great content is just the beginning; you also need to promote it effectively. Share your content on social media platforms, email newsletters, and relevant online communities. Engage with your audience by responding to comments and encouraging discussions around your content. Collaboration with influencers or industry partners can also extend your content's reach.
6. Analyze and Adapt
Regularly analyze the performance of your content marketing efforts. Use tools like Google Analytics to track website traffic, conversion rates, and other key metrics. Pay attention to what works and what doesn't, and adapt your strategy accordingly. Continuous improvement is essential for long-term success.
7. Build a Content Calendar
A content calendar is a crucial organizational tool that helps you plan and schedule your content in advance. It ensures that you consistently deliver content that aligns with your business goals and audience needs. A well-structured calendar also helps you avoid last-minute rushes and maintain a consistent posting schedule.
8. Leverage Different Content Types
Diversify your content types to cater to various audience preferences. Some people prefer reading blog posts, while others prefer watching videos or listening to podcasts. Offering a mix of content formats can help you reach a broader audience and keep them engaged.
9. Tell Your Brand Story
Storytelling is a powerful way to connect with your audience on a personal level. Share your brand's story, values, and mission through your content. Highlight your unique selling points and what sets your small business apart from competitors. Authenticity and transparency can build trust and loyalty among your customers.
10. Monitor Competitors
Keep an eye on what your competitors are doing in terms of content marketing. Analyze their strategies, content types, and engagement levels. This can provide valuable insights and help you identify opportunities to differentiate your small business in the market.
11. Leverage Social Media
Social media platforms are excellent channels for promoting your content and connecting with your audience. Share your blog posts, videos, and other content on platforms like Facebook, Twitter, Instagram, and LinkedIn. Engage with your followers, respond to comments, and encourage sharing to expand your reach.
12. Email Marketing
Email marketing is a powerful tool for nurturing leads and retaining customers. Build an email list by offering valuable content in exchange for subscribers' email addresses. Send regular newsletters, product updates, and exclusive content to keep your audience engaged and informed.
13. Continuously Improve
The digital landscape is constantly evolving, and so should your content marketing strategy. Stay up-to-date with industry trends, emerging technologies, and changes in consumer behavior. Adapt and refine your strategy to stay relevant and competitive.
Conclusion
Content marketing is a powerful tool that can significantly contribute to the growth of your small business. By understanding your audience, setting clear goals, creating high-quality content, and consistently engaging with your audience, you can establish a strong online presence and drive business success. Remember that content marketing is an ongoing process, and continuous improvement is key to achieving long-term growth