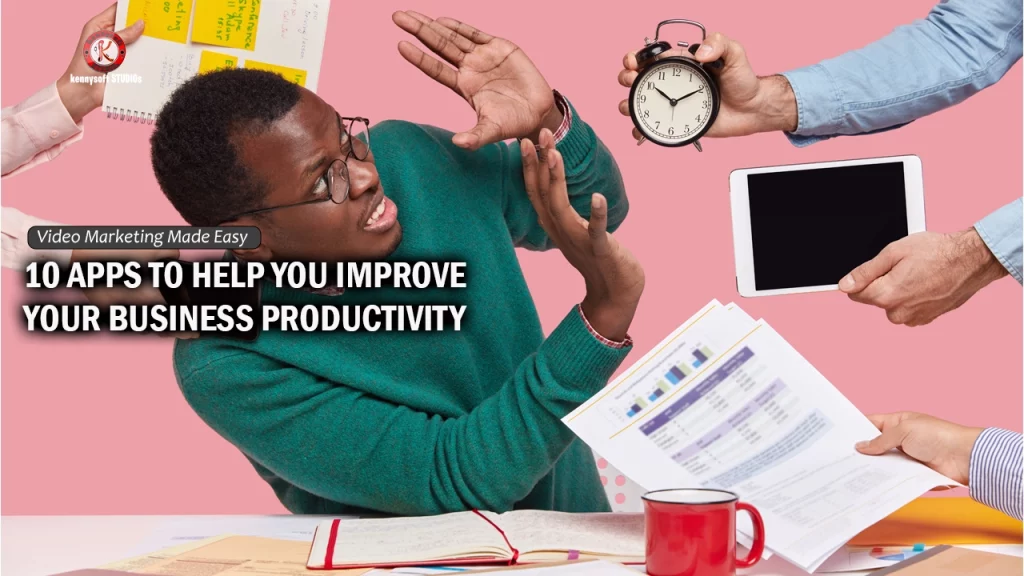 In an ever evolving fast-paced digital business world of today, leveraging technology is essential for improving business productivity. Fortunately, a plethora of apps are available to streamline processes, enhance collaboration, and optimize time management. From communication tools to project management platforms, these applications can significantly impact your business efficiency. In this article, we will explore five powerful apps that can help you take your business productivity to the next level.
Apps To Help You Improve Your Business Productivity
Evernote – Elevating Note-Taking and Organization
Gone are the days of scattered notes and disorganized thoughts. Evernote is a digital note-taking app that allows you to capture ideas, create to-do lists, and store important documents in one centralized location. With its ability to sync across devices, Evernote ensures that you can access your information anytime, anywhere. Its powerful search functionality and tagging system make retrieving notes a breeze, enabling you to save valuable time and maintain a clutter-free workspace.
RescueTime – Enhancing Time Management
In a world full of distractions, time management is crucial. RescueTime is a productivity app that provides insights into how you spend your time on digital devices. By tracking your online activities and categorizing them, RescueTime helps you identify time-wasting habits and areas for improvement. The app generates detailed reports and offers tools to set goals and alerts, allowing you to take control of your time and focus on tasks that truly matter.
Monday is a free work management and productivity app for both iOS and Android which helps you complete tasks and important projects, manage your time, and prioritize the most important things in order to meet deadlines. It also makes it easy to stay productive and collaborate with coworkers without forgetting any deadlines.
With Monday, you can invite coworkers to share their deadlines and view a collective project timeline. This means that you can always see what's going on in the company and when each task will be completed. Monday includes a calendar for planning meetings, a kanban board, customizable reports. Here's a quick list of features:
time tracking tool
task management
to-do lists
ios and android
multiple team members
Monday offers a variety of features to help you stay focused, stay on top of all the tasks, and manage your time, making it easy to avoid late deadlines and therefore increasing productivity at work.
Slack – Unleashing Seamless Communication
Communication is the cornerstone of any successful business. Slack has emerged as a game-changer by revolutionizing workplace communication. This real-time messaging app replaces cluttered email threads with organized channels, direct messaging, and integrations with other tools. With features like file sharing, video calls, and customizable notifications, Slack fosters collaboration and ensures that everyone is on the same page. Whether your team is in the same office or spread across the globe, Slack enhances communication efficiency and minimizes misunderstandings.
Trello – Mastering Project Management
Effective project management is vital for keeping tasks on track and ensuring deadlines are met. Trello, a visually appealing and intuitive app, enables you to create boards, lists, and cards that represent tasks and their progress. This Kanban-style approach simplifies task tracking, making it easy to assign responsibilities, set due dates, and visualize workflow. Trello promotes transparency and accountability, allowing team members to work collaboratively on projects and monitor progress effortlessly.
Asana – Orchestrating Team Collaboration
For businesses aiming to streamline collaboration, Asana is a potent tool. With its comprehensive task management features, Asana empowers teams to plan, organize, and execute projects with precision. The app's user-friendly interface enables you to create tasks, assign them to team members, set priorities, and track progress. Asana's customizable dashboards and timeline views provide a holistic perspective on ongoing
If you ever need to host a business meeting with multiple colleagues or clients, you won't find a better video conferencing app than Zoom. It is the best platform available for hosting virtual meetings.
Zoom has gained a lot of attention this past year. Many people say it is a better alternative to Skype because the controls are simpler to manage. It also lets you conduct high-resolution video meetings with over 25 people at a time.
Many businesses create documents that require signatures from their clients. Sometimes it can take a lot of time for clients to sign the papers and fax or email scans back to the senders.
If you're a businessperson who wants to simplify the signing process for your clients and yourself, you'll want to install the DocuSign app. It lets you upload a contract or agreement that you can e-sign and send to the recipient through a secure server. The recipient will receive an email with a link where they can e-sign it as well.
Real estate agents, lawyers, title agents, paralegals, medical personnel and other professionals can find a lot of use from this digital document signature app. If you send a document to a client through email, you can receive a signed copy of the document back from them in record time. There are no more delays or technical issues that you need to worry about.
Loom is a video messaging tool that helps you get your message across through instantly shareable videos. With Loom, you can record your camera, microphone, and desktop simultaneously. Your video is then instantly available to share through Loom's patented technology.
Loom also stores all of your videos in a library, making it easy to reference later. This means you only need to explain something once – saving you time and keeping your messaging consistent. Loom also will send you a notification as soon as your video has been watched, so you know when you should follow up or to expect further questions.
Google Docs is free online software that lets you create documents collaboratively with other people anywhere in the world at the same time (literally "at the speed of thought.") It has many features which make it perfect for busy professionals who want to collaborate and share documents, spreadsheets, to-do lists, and presentations with their teams. Google Docs also works on your PC, Mac or smartphone.
For easier project management, you can share documents with others and see their changes to your document in real time, and it also keeps track of everyone's changes so you know who made what change and when. With this type of instant feedback and information, saving time and increasing workplace productivity at work is a snap.
Your employees aren't tied to a desk, so why should their documents be tied to a desktop? The Google Docs app provides a real-time place for workers to access and share their documents on their mobile devices, regardless of location. Its features include:
Real-time co-authoring
Multiple fonts
Redlining and commenting
Role assignment
Public or private access
Integrated spreadsheets
Syncs with Google Calendar
With productivity app, the data your employees need is as mobile as they are, something that's uniquely designed to boost productivity at work. Using this for your business documents will help you save time and money by having everything you need in one place.
Conclusion
In the digital age, leveraging technology to enhance business productivity is a strategic move that can lead to improved efficiency, better collaboration, and increased profitability. The apps mentioned above—Slack, Trello, Asana, Evernote, RescueTime and others—are just a snapshot of the vast ecosystem of tools available. By incorporating these apps into your business workflow, you can streamline communication, optimize project management, foster collaboration, and master time management, ultimately propelling your business towards greater success.