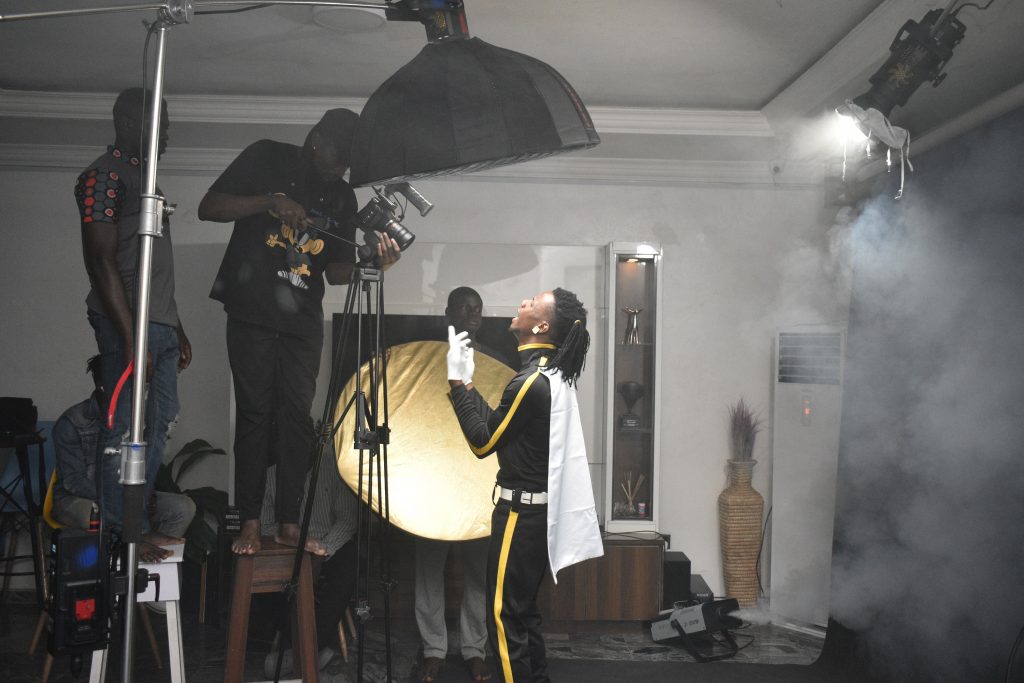 There will always be need for film schools in Nigeria, why! the entertainment industry in Nigeria is rapidly growing a very fast paste and to accommodate that growth we need professionals to fill up professional spaces in the film industry and that's where you need film schools.
Lot of talented youths are seriously seeking for the best film schools in Nigeria, academies and institutes in Nigeria where the tutors have vast experience in the filmmaking industry so as to register and get trained in acting, video directing, filmmaking, photography, animation and cinematography just to mention a few.
Are you one of them?
Have you been considering a glorious career in acting and filmmaking?
If YES, then this article is only what you need to read today.
Nollywood is one of the Nigerian biggest industries and had produced brilliant talents over the years in terms of writers, producers, actors and actresses, cinematographers just to mention a few.
The likes of Chico Ejiro, Emem Isong, Funke Akindele, Uche Jombo, Saint Obi, Mercy Johnson, Chidi Mokeme, Richard Mofe Damijo, Genevieve Nnaji, Osita Iheme and Chinedu Ikedieze and so many talents are all Nollywood products.
Nollywood presence has become an avenue for many Nigerians to gain their dream of working in the entertainment industry.
So, if you're dreaming of becoming a star on television you need to attend a good film school well equipped with material and human resources to bring out your creativity.
Fortunately, several training academies and institutes are in Nigeria, targeting people who wish to discover their talents in film making.
Without further ado, allow me to unveil the list of best film schools in Nigeria:
Top film schools in Nigeria
PEFTI Film Institute
Wale Adenuga Productions, found PEFTI Film Institute Limited in 2004, to provide opportunities for newcomers and seasoned professionals to gain professional training in the fields of film, television, and music production.
• Programs Offered:
• Acting and Presentation
• Choreography
• Costume and Makeup
• Digital Film-making: Cinematography (Camera + Light + Sound)
• Digital Film-making: Editing
• Digital Photography (Photography + Picture Editing)
• Directing
• Music
• Music Studio Production
• Producing and Production Management
• Script – Writing (Radio, Stage and Screen)
• Set Design
PEFTI Film Institute is in 5/6 Joy Avenue, by UBA Bank, off Osolo way, Ajao Estate, Isolo, P.O.Box 4325, Oshodi, Lagos State.
Website: www.web.pefti.tv
Royal Art Academy
Royal Arts Academy, one of the most highly-rated film academies in Nigeria was established in July 2010 by Emem Isong to help in nurturing talent and skills, specifically in acting, directing, editing and screenwriting.
In July 2016, the National Board of Technical Education (NBTE) accredited Royal Arts Academy.
With each succeeding session, students poured in increasing numbers from all areas in Nigeria, South Africa, Cameroon, Liberia, Kenya, Dubai and Mozambique.
The students of this programme may proceed after this to polytechnics or universities for higher education.
Alumni of the institution such as Theresa Edem, Ijeoma Agu, Lota Chukwu, Bunmi Ajakaiye, Etinosa Idemudia, May Owen, Debby Felix and Emem Ufot, gained ground and prominence in Nollywood, using the experience and knowledge gained to expand the canvas of the Nigerian entertainment industry.
Courses:
• Acting
• Cinematography
• Directing
• Editing
• Screenwriting
Duration: 3 Months
Campuses:
Lagos (₦123,500)
Uyo (₦123,500)
International Students ($491)
Address: 4, Adebisi Close, off Ogunlana Drive, Surulere 100001, Lagos
Email: info@royalartsacademy.com.ng
Website: www.royalartsacademy.com.ng
Kennysoft Film Academy
Kennysoft Film Academy is one of Africa's leading film and digital art institution, located in Port Harcourt, Rivers State, Nigeria. Offering certificates, diplomas and Workshops programs in filmmaking and digital art. We offer an intensive, hands-on, total immersion approach to learning, no previous experience is required. Simply put, "we give your dreams wings to fly"!
Courses offers in diploma
• Diploma In Digital Photography
• Diploma In Digital Art
• Diploma In Digital Filmmaking
Courses offers in certificate
• Certificate In 2d Animation
• Certificate In 3d Animation
• Certificate In Photo Editing And Photo Manipulation
• Certificate In Visual Effect
• Certificate In Video Editing
• Certificate In Motion Graphics
• Certificate In Cinematography
Email: academy@kennysoftstudio.com
Website: academy.kennysoftstudio.com
Tell: 08163876675
Del-York Creative Academy
The Del-York Creative Academy is Africa's foremost capacity building institution for film, media, animation, technology, and marketing communications industry.
Certified by Nigeria's National Board for Technical Education, Del-York Creative Academy has remained the best filmmaking and media studies institution since its founding in 2010 by Mr. Linus Idahosa, and has since attracted participants from across Africa and as far as Europe and the Americas.
This film and media school is pioneering the growth of the African Creative Industry, through its intensive hands-on training programs that provide a rich learning experience that empowers participants with the skills they need to lead successful, creative careers.
The academy has a mission to build a vocational bridge for students between academia and industry guaranteeing professional success while training and empowering a generation of exceptional talent that will move Africa forward through cinema, storytelling and media innovation.
Courses
• Acting For Film (On-Premise)
• Screenwriting For Film and TV (On-Premise)
• Cinematography and Set Lighting
• Directing
• Film Editing
• Digital Content Creation and Social Media Influencing
• Public Relations and Media Communications
• 3D Animation
• Producing and The Business of Film-Making
• Fashion, Arts and Craft
• Music Video Production
• VFX
• Intro To Theater Production
• Makeup and Special Effects
• Costume and Set Design
• Digital Marketing
• Photography
• Colouring and Grading
• Drones
• Sound Design and Scoring For Film
• Acting For Film (Online Course)
• Screenwriting For Film and TV (Online Course)
• Broadcast Journalism (Online Course)
• Producing and The Business of Film and TV (Online Course)
• Documentary Filmmaking (Online Course)
• Digital Filmmaking (Online Course)
• Digital Marketing (Online Course)
• Fashion, Art and Crafts (Online Course)
• Post-Production (Online Course)
Email: inquiry@delyorkcreative.academy
Website: www.delyorkcreative.academy
Addresses:
3, Sapara Williams, Victoria Island, Lagos, Nigeria
117 East Colorado Blvd., Suite 600, Pasadena, California, USA
Yul Edochie Academy
Yul Edochie Academy is a subsidiary of Yul Edochie Arts World, a reputable and redefined academy for acting, and a training ground for actors/actresses with visions of training the next generation of actors.
It is located at Dkk Plaza, KM 46 Lekki-Epe Express, Farms Bustop Beside Splash Bar, Ajah, Lagos Nigeria
Phone no. 0903 830 0784, 0701 277 5557, 0903 735 9580.
Scene One School of Drama
Scene One School of Drama offers a training system that combines solid academic experience on introduction to drama, traditional and contemporary dance, music, etiquette and manners and lots more.
Scene One School of Drama is located at, lkeja, Lagos Nigeria
Lufodo Academy of Performing Arts (LAPA)
Lufodo Academy of Performing Arts, LAPA, is an accredited acting and performing arts institution stationed in Lagos, Nigeria. This film school was founded by Nollywood legends Joke Silva and Olu Jacobs, is accredited by the National Board of Technical Education of Nigeria. , which delivers world-class, hands-on training in acting and performance disciplines.
LAPA offers Diploma and Certificate training programmes covering all aspects of Acting, Directing, Scriptwriting, Critique, Cinematography, Set Design, Make-up, Costume Design and Dance/Movement for stage, radio and camera presentations.
Film for Teens Africa Academy
Film for Teens Africa Academy is a film school in Nigeria notable for 3D Animation, as much as anything else. Located in Lagos, Film for Teens Africa offers lessons undertaking cinematography, script writing, video editing, photography, make up, 3D animation and lots more.
Magnus Film Academy (MFA)
Noted as one of the best film schools in the country, Magnus Film Academy is located in Enugu state. It is dubbed by many as a place where aspiring actors and actresses hone their skills, and are transformed into movie acting professionals. Magnus film revolves around craft and digitalization, combining experienced and internationally renowned professionals and practical learning experience.
Reach World Art Academy
Reach World Art Academy provides acting education in all round entertainment ranging from music, dance, acting, standup comedy, MC, poet and lots more.
It is located at Kilmore Schools at st.Rose of Lima cath. church Amukoko Roundabout, Gaskiya, Lagos Nigeria0706 390 6924, 0809 611 8676, 0903 736 6251
Final Thought
These are major film academies you should consider learning skills that will help you fit properly into the film industry in Nigeria.
As you should have known, to get trained in a wonderful filmmaking and cinematography school in Nigeria isn't free, so budget money for your fees, accommodation, feeding, equipment's.
It is necessary to opt for schools that can boast of the industry-standard training facilities to ensure you are getting quality value for your money.
Visit the official website of these film schools and institutes to make enquiries and get latest news and updates.
Beware of scammers that will parade as agents and schools.
Finally, if you know any film school in Nigeria that is equally a good option or shouldn't be in this list, please let us know in the comment section.
Tell us the film school and why it is excellent or bad for upcoming actors and actresses in Nigeria.
I wish you success.