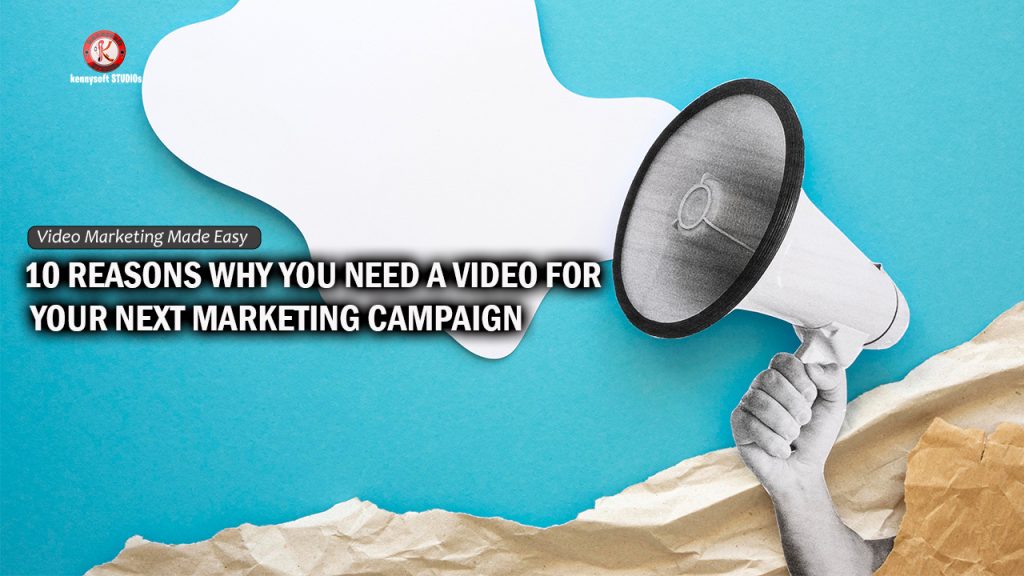 Video marketing is fast becoming the go-to method for companies to showcase their brand, products, and services.
In today's digital-first world, video is an effective way to grab attention and reach target audiences. But, why is it so effective and why should you consider it for your next marketing campaign?
Read on to discover five key reasons you need to include a video in your next marketing campaign.
10 Reasons Why You Need A Video
1. Increase Visibility: According to leading research firmv, 85% of businesses have used video as a marketing tool. As an incredibly powerful content format, video increases visibility for your brand while also providing a memorable message. The rise of social media platforms and their own video hosting tools means videos can be hosted online for free and shared quickly and easily amongst many people.
The more creative and catchier the video, the more likely it is that it will get shared, further increasing visibility. In fact, according to the same Wyzowl research, 30% of consumers say they would share a branded video with their friends if the content was entertaining. When used alongside SEO best practices, good quality videos also have the potential to boost your company's presence on search engine result pages. This helps your company to stand out from the competition and builds brand awareness and loyalty with potential customers.
2. Create a Deeper Connection: Video can help to create a deeper connection between your brand and potential customers. A good quality video that effectively communicates your message can help to create an emotional connection between the customers and your message, which helps to make your brand stand out from the competition. Moreover, people tend to retain 95% of a message when it is viewed in a video, as opposed to 10% when the same message is read.
3. Save Time: Using video in your marketing campaign is time-saving and cost-effective. You can use the same video for various campaigns, on numerous platforms, and in different languages. Additionally, you can make changes or updates to an existing video without having to create a new one. This can save you time and money, allowing you to focus on other aspects of your campaign.
4. Explain Complex Ideas: What a great way to explain complex concepts in an easy to understand way. Videos create an enjoyable and meaningful learning experience for viewers, helping them to engage with complicated topics. Companies can use videos to explain how their products and services work, how they are made or how they can help customers. The use of graphics, music, and narration allows companies to simplify and convey their points in a concise and creative way, helping them to reach out to current and potential customers in a memorable way.
5. Educate and Entertain: Video content is becoming more popular in the business world because it packs more of a punch than plain text. It has the potential to entertain viewers with creative content and capture their attention while also educating them about your company or product. Using videos to express your company's message in an entertaining way is far more likely to capture the attention of viewers. Videos can also be hosted on social media platforms, increasing your brand's visibility and reach into potential customer's newsfeeds. This is the perfect way to make sure that the content doesn't become lost among the white noise of traditional advertising.
6. Improve SEO: A well-placed video on your website, blog, or social media platform can significantly help improve your search engine optimization (SEO). Google gives special consideration to websites that host video content, ranking them higher in search engine results. This is because video is a dynamic content medium, and it usually engages users for a longer period of time, giving search engines a better indication of the quality of the website and its relevance to a given topic.
7. Cost-Effectiveness: Unlike traditional print or television advertisements, the cost to create good quality videos is low. It's now possible to create high-quality videos at low cost, thanks to the advances in digital technologies. Many businesses are now creating attractive yet affordable videos that pack a punch and generate results. The cost of producing, hosting, and sharing videos is also significantly lower when compared to other traditional marketing methods. This makes it a cost-effective way for companies to promote their business online and on social media. It also ensures that budgets don't get wasted, as videos can be repurposed to share on multiple channels.
8. Boosts Conversions: Along with increased engagement, video can increase your conversions. Concentrate Media found that including videos on a landing page increases the conversions of that page by 80%. Similarly, HubSpot found that customers that view product videos are 1.8 times more likely to purchase a product.
9. Build Trust and Relationships: In order to interact with customers and prospects, video is an effective way to build trust and relationships. This is because it allows a brand to create an emotional connection with its audience. People are more likely to engage with a brand when they feel as if they are getting to know it on a more personal level. Video is an effective tool to showcase a company's successes, customer reviews, and product or service demonstrations. In addition, businesses can use video to answer frequently asked questions and provide customer education, which can help to further build trust and relationships.
10. Stand Out from Competition: When launching a marketing campaign, you want your brand to stand out from the crowd. Video has the potential to drastically increase your brand's visibility and make it stand out from the competition. A well-produced video can complement your campaign with visuals, sound, and engaging storytelling, allowing you to showcase your unique brand personality and values. Additionally, it is an ideal way to capture the interests of potential customers, setting your business apart from other competitors in the market.
Conclusion: As you can see, video is an incredibly important tool for companies to better explain their message, reach out to audiences via mobile devices, and stand out from the competition.
Using video for your next marketing campaign can give you a competitive edge over your competition. It allows you to engage with your potential customers and create a deeper connection with them. Moreover, it saves time and boosts conversions. If you need help creating a video or incorporating video into your next campaign, contact us today. We have the expertise and experience to help you create a successful video-based marketing campaign.