The world is evolving so is marketing, the way we use to market our product and services have change a lot, now things are done a little different then it uses to be; products and services are now sold in an appetizing way using motion graphics to support its customer's appeal. These was not possible some few years ago, now with the help of video you can create any imaginable reality for your customers to believe.
Humans And Visuals
It's well known that humans are visual begins, as far back as the early cave days Some of the earliest evidence of stories comes from the cave drawings in Lascaux and Chavaux, France. The drawings, which date as far back as 30,000 years ago, depict animals, humans, and other objects. Some of them appear to represent visual stories. It is human nature to stories using visuals, The creators of those ancient cave drawings may not have had a marketing strategy in mind … but there's a reason that visual communication has stuck around for millennia and can be found in practically every culture. We are hard-wired to process visual information both accurately and quickly.
So, Why Is Video Marketing Important?
For decades, many companies have embraced the written word as a way of giving their readers a "hook," especially in the wake of Bill Gates's 1996 monumental essay "Content Is King." In today's fast-paced, digital-centric era, however, it's time to rely on visual content — specifically, video communication.
How The Human Brain Process Visual Content
According to E-Learning and the Science of Instruction by Dr. Ruth Colvin Clark and Dr. Richard E. Mayer, when compared with text alone, text that is combined with images improves comprehension by as much as 89%. That's probably why video communication is shown to significantly improve our understanding when information is being shared.
What Does This Means For Your Business?
According to the study, adding videos to presentations helps improve audience attention and influence action. Video contents facilitates the absorption of data, helping illustrate information that might require further elaboration. This creates a more informative and palatable reading experience.
Posts with visuals especially videos produce a 650% higher engagement rate than text-based posts. According to the Adobe Digital Index Social Intelligence Report, content paired with visuals yielded a 650% higher engagement rate than standard text posts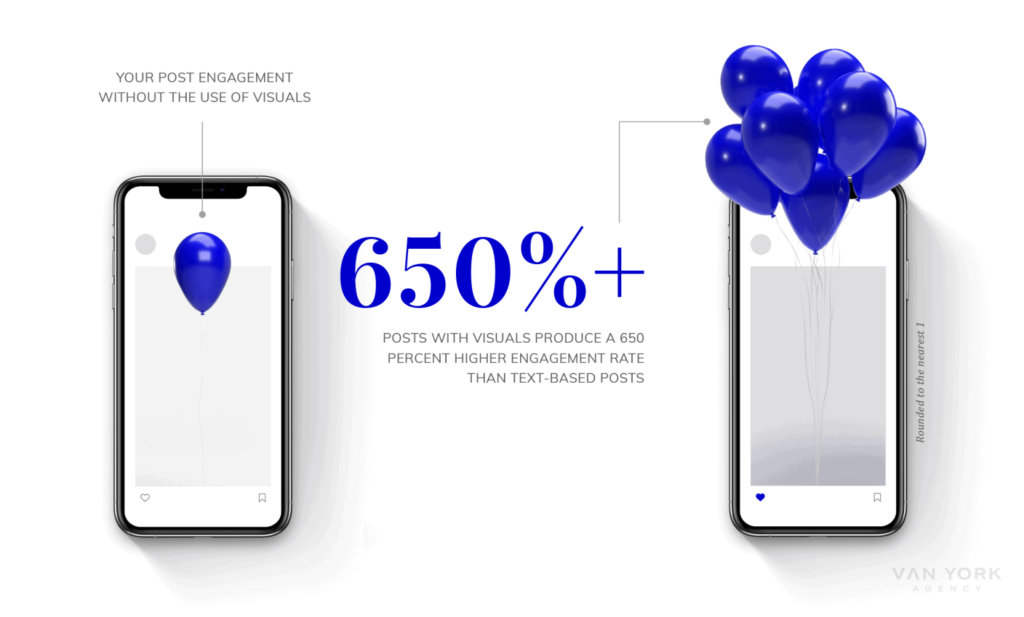 The right video really can make a difference. In fact, 40.2% of marketers say that original, custom visual content such as video and infographics perform best, compared to just 12.5% saying stock photography is best, according to Venngage. When planning your visual communication, always consider custom video content that's tailored to your message, your tone, and your brand.
No matter what industry you're in, knowing the basics of video marketing can facilitate and elevate your message. Remember, your audiences are hard-wired to understand videos more quickly and effectively than text.
Video Marketing Can Help When You:
Have a lot of data
Want to tell a complex story
Need to capture someone's attention
No matter what you're saying, it's important to consider how your audience will best understand your message. If you recently conducted a survey but your readers aren't statisticians, how can video communication help make sense of your data? If the emotional weight of your subject matter has the potential to disengage your audience, how can video communication strike the right tone? Asking questions like these at every turn will help determine when visual content is the right answer.
59% Of Senior Executives Prefer Video Over Text When Both Are Available.
A 2010 Forbes Insights study, in association with Google, surveyed 306 executives, and found that 59% of the participants opted for video content when the information was available in both video and text form.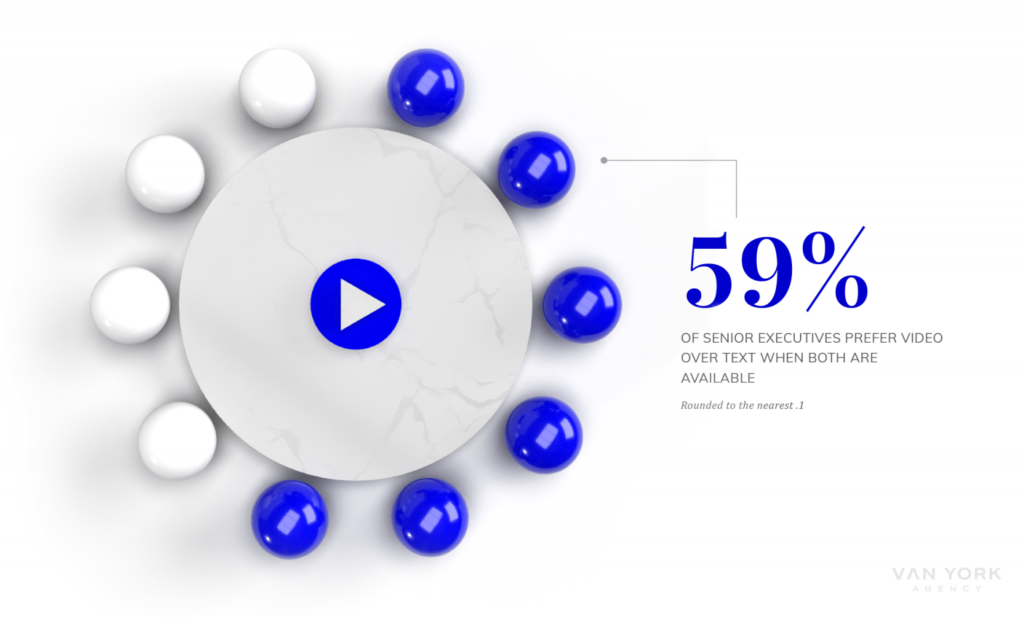 A Forbes Insights survey found that individuals prefer more convenient means of absorbing information. Videos, from animated explainer videos to 3D virtual modeling, are increasingly permeating social media as much as they are finding their way into the C-Suite. In fact, organizations in professional services, communications and technology were among a small group of industries that published over 300 videos in 2018. Using videos to educate or influence an audience is one of the most effective means of communication today, and can significantly enhance your storytelling strategy – in both the boardroom and the newsfeed
Some Applications Of Video Marketing
Video marketing can be applied across diverse media, industries, and topics. Some formats include (but aren't limited to):
INFOGRAPHICS
Infographics tell a story using facts, data, and visuals. They work in both digital and print formats and are a great tool for presenting a clear data- or fact-based message.
ANNUAL & FINANCIAL REPORTS
Annual reports don't have to be hefty tomes. By following the basics of visual communication and incorporating data viz and iconography, these reports can take on new life and capture interest and readership.
Motion graphics — most often at 90 seconds or less — deliver dynamic stories. These are a great outlet for explaining information, promoting products, or describing a situation. They rely on a multisensory approach to capture an emotional response in the viewer.
Interactive content creates a hands-on approach to learning. Whether it's a full-size microsite or a compact widget, an interactive experience can deliver complex or substantial amounts of information in personalized, easily digestible formats.
Maintaining the integrity of your brand is a must. Establishing a clear visual brand identity will ensure that every piece of visual content you produce upholds your company's values and goals while reaching a defined audience.
AUGMENTED & VIRTUAL REALITY
AR and VR provide opportunities to dig deeper than what's on the surface. Whether that's by providing additional data or creating a new universe to showcase your brand, these cutting-edge platforms create an embodied visual experience that communicates the heart of any message.
VISUAL COMMUNICATION CAMPAIGNS
Any individual piece of collateral is a drop in the marketing bucket. With a campaign approach, you can use a variety of visual communication across channels to tell a larger story, whether you're building brand recognition, sharing information, or launching a product.
The Creative Process: Making A Piece Of Great Video Marketing Content
Understanding the importance and implications of video content is one thing … but creating it is another. Here are three tenets to keep in mind as you work to develop visuals that excel.
COMMUNICATION
Creating pieces that communicate visually requires clear communication throughout the entire process: between content writers and designers, between your marketing team and your design team, and more. If you're working with a visual communication agency, make sure that they ask at least some basic questions about your goals and target audience. These considerations should be communicated to the entire creative team and should drive the entire production process.
Even when you talk about your goals, it's pretty rare that things will turn out perfectly on the first go. Working with a creative team is a collaborative process, so be clear about the changes you'd like to see and what your reasoning is for those changes. An experienced team of video communicators will be able to make smart recommendations for revisions that address your concerns while keeping your goals in clear view.
In creating custom content — be it an icon or a visual language — it's important that you put your best foot forward. Working with a video marketing agency who can guide you toward the end result that's best for your unique situation and goals will help your visual communication stand out in all the right ways.
Visual communication is a rich part of our history and evolution. It comes to us naturally, so we find it more compelling and easier to understand than text. All of this makes it a powerful tool that marketers can't afford to ignore.
Just remember one thing if you're looking to incorporate more visual communication content into your next marketing campaign: focus on quality. In a world where high-quality videos are everywhere, stock imagery won't be enough to keep your audiences' attention. So, partner with a video marketing agency to determine the right visual strategy for your brand.