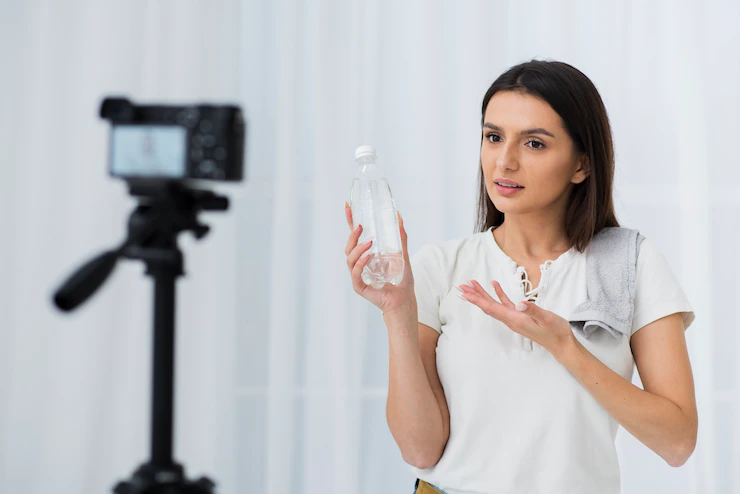 As business owners we all want to boost sales and profits, to do that we need to market our products and services and to be honest marketing has clearly changed a lot in the last few years, with attention spans shortening and competition for digital space growing daily. Companies and brands have had to adapt and grow in order to keep up, and a lot of people turned to video over the years. Using video services to sell is nothing new; television adverts have been around since the 1950s (check out this television advert from 1955) and it's always been a popular medium. However, it's getting harder to really make a difference with your video content, so we'll be looking at 8 ways you can help boost your sales through an effective video strategy.
In this article, Kennysoft STUDIOs look at the benefits of video content marketing, how your company should be implementing it, and the different ways you can boost sales with video.
This article will cover the following:
– What are the benefits of video content marketing?
– Using video marketing to boost sales
– 8 Ways to Boost Sales with Video
– Animated videos
– Explainer Videos
– Demo videos
– New Product launch videos
– How to videos
– FAQ videos
– Case Studies
– Testimonial videos
‍
What are the benefits of video content marketing?
Developing an effective video strategy is key to lots of businesses' digital marketing success. Video allows for an engaging and entertaining way to get your messaging across, in a succinct but powerful way. You don't need to worry about hoping people read your detailed and technical whitepaper, because you know you can capture their attention and get all the necessary information across in a video instead. If a picture is worth 1,000 words, and a video is made up of thousands of pictures, there's a lot of space for you to get your point across.
There are dozens of different types of videos you can utilize as part of an effective video marketing strategy, a lot of which we will go into more detail for later on. This means that you don't have to rely on one medium to capture your audience's attention, but can hit them on a number of different fronts.
An effective video marketing strategy also isn't limited to one platform. You could have a detailed company film on your website homepage; breaking down all the different services you offer. You could then have some short testimonial videos from customers on LinkedIn, singing your praises and recommending that everybody works with you. And then finally short animations in your emails to really catch peoples' attention and draw them into your messaging.
Using video marketing to boost sales
As mentioned at the start of the piece, brands have been using video to sell their products for over 60 years.
80% of people have purchased a piece of software or app after watching a brand's video (Wyzowl, 2019).
And it doesn't just go for tech or digital companies either, thousands of professional services companies around the world now use video as part of their marketing strategy.
This is because for industries like accountancy for example, a lot of their new clients come in based on reputation or trust. If you had never met or seen your accountant before, how likely are you to work with them? Whereas if you watch a short video of them introducing themself (and you like the look of them) you're much more inclined to get in touch. Video is a great tool for getting over the first hurdle of trust. Similarly with reputation, if you watch a testimonial from a reputable client who is singing the praises of an accountant, this really helps boost their image to a prospective client.
If you know that a decent amount of your enquiries, come in through your website (or even if you don't) then having a video on your website can really help boost conversion rates. It keeps people on the website for longer, and makes them more likely to get in touch or to buy from you. Similarly, utilizing video as part of your social media or email marketing strategy helps boost traffic to the website, giving you more potential opportunities to close sales.
8 Ways to Boost Sales and profits With Video
1. Animated videos
More businesses are turning to animation as a way of marketing their business or products online, investing time to make animated videos that add a great amount of value to their marketing efforts. This is because it's an incredibly versatile type of content for marketing, as well as the fact is very effective with consumers and business customers alike. Animated videos or animated explainer videos aren't limited to what's in front of you, you can create an entire new world if you're working with a creative animator. This means any animations you create will be completely bespoke to your business and will help you stand out from your competitors. You can make animated videos as personal, as simple, or as complex as you need them to be.
Animations are fantastic for raising brand awareness as all of the designs within the animation can be created entirely in your brand colors. This means that no matter how far through the animation the viewer watches (hopefully the whole way) they will constantly be reminded of your brand. It's brilliant for social media where it's easy to get lost amongst the hundreds of spam posts, in helping your branded content stand out about everyone else's.
Video is perfect for social media
Animations are also excellent for simplifying complex topics. Whether you're trying to explain a complex pharmaceutical product, a detailed cyber security product, or breakdown all of your accountancy services, animation can do it all. Using images and graphics to explain a product or service is far more effective for selling than just describing it to someone.
2. Explainer Videos
Animation is often used a lot when companies want to create explainer videos because it's excellent for breaking down complex products or services. But animated explainer videos in general are a great tool for businesses looking to streamline their sales processes. Lots of businesses will incorporate an explainer video in part of their initial pitch or early sales conversations as it's a great way of engaging your audience when talking about what you do.
Rather than linking a client a 6-page document explaining all the benefits of using your service, wouldn't it be easier to send them a 30 second video which does all that for you? A well-made and engaging explainer video is an invaluable tool in the arsenal of digital marketers looking to increase revenue. Explainer videos can be a great touchpoint before you speak to a potential lead on the phone. Sending an email with a quick video for them to watch can warm up your lead and also further their understanding of what it is you're offering.
3. Demo Videos
Demo videos are perfect for companies who create software or complex products. It's not always possible to jump on a call with a client or to go out and meet with them to talk them through things, sometimes you just need to send out a video.
Software demonstration videos are often accompanied by an engaging voice over and screen capture footage of the software in action or the problem being solved. These are perfect for quickly sending out to new customers or if somebody has a problem with your product or software.
Likewise, if you sell a physical product, maybe customers need to know how to put it together or how to get the most of it. A well put together demo video with close ups and well explained steps can really help customers in getting the most out of your products, and can often mean that people share your content if it really helped them.
Perhaps you want to create demo videos for something else which isn't a direct product, but perhaps still links to what you do. For example, lots of IT or Telecoms companies will often create demonstration videos for general tasks which a lot of people might not know how to do. This is a great way of boosting your brand's reputation and you might even pick up some new customers along the way. Think about demonstrating how to block a number on an iPhone, or how to speed up your laptop if it's getting a bit old. Content like this is great for getting people engaged with your brand early, before they might be ready to be a customer.
4. New Product Launch Videos
If you've got a brand-new product or service coming out, then you're going to want to shout about it and get it seen by as many potential customers as possible. Creating a product launch video is an excellent way of doing this and being able to showcase all the potential benefits or uses in the most engaging way possible. Rather than releasing a huge press release about your new product, release a 30 second product launch video which briefly explains what it is and why people should buy it. You can then use this to lead customers onto your website where they can find out more.
Here's an example product launch video we produced for a client recently:
It's a great tool for boosting traffic to the website and generating hype around a new product to help boost sales. You could also do a two-video strategy, where on social media or an email blast you have a short version of the video, essentially a trailer to pique the interest of customers. You then push them onto the website where they can watch a detailed explainer video of the new product.
71% of consumers prefer video over other marketing content.
5. How To Videos
How many times have you Googled "How to" do something? Chances are it's a lot. Billions of people use the internet as their go to place for tutorials and finding out how to complete tasks. Why not present yourself as the go to place for some of this knowledge? If there are certain activities or tasks related to your industry that people struggle with, put some of your expertise to use in helping people out for free.
If you can help people out with a small issue; "how to write a CV" or "how to complete a tax return" and simple things like this, they'll remember you and come back in future when they're ready to buy. It's for this reason that how-to videos are so successful as part of a good video marketing strategy.
If you think that YouTube is the second biggest search engine in the world (second only to Google), there's a lot of people searching for what you might be able to help them with. If you don't have the video content, you might be missing out on their business. Not to mention Google often priorities videos and websites with video, so it's worth it for a bit of an SEO boost.
6. FAQ Videos
Similarly, to How To videos, FAQ videos are a great opportunity to showcase your expertise in a certain area. If you know there are lots of commonly asked questions about what you do or your industry, answer them in one handy video. You can add in some animated content to bring scenarios to life and make the content even more appealing to viewers.
FAQ videos are also a good opportunity often to pre-qualify some leads coming in through your website. If you address things like pricing or individual services that you offer, this might help sort out the real leads from the vague enquiries. They can also be a fun way for potential customers or clients to meet the team, if you have different members of the team answering FAQs on their own specific areas.
7. Case Studies
Case study videos are a brilliant way of showcasing the work that your business has done on a project or a campaign. Many websites use written case studies to describe what they've done, but a video is a great tool for bringing these case studies to life. They let you show all the good work you've done in an engaging and visual way, and chances are they'll help convince a prospective lead to get in touch with you (provided you've done good work of course).
They're a great way to provide a deep dive into a specific service your business provides and give customers an example of how it works. If you use case study videos to then market to similar industries or similar companies, chances are you'll increase your chance of closing more business in future! They're the perfect way for customers to see exactly how your business can help them, with a relevant example.
8. Testimonial Videos
What better way to sell your services than to have a real customer do it for you? Referrals in business are hugely important and testimonial videos are a great way of improving your reputation and helping to boost sales. If you've done a good job for your customers, chances are they'll be more than happy to give you a glowing testimonial. Testimonial videos are a great way of building trust on your website and for your brand because it gives customers and leads reassurance that you will do a good job for them.
Similarly, to case study videos, if you're looking to target a certain industry or sector then testimonial videos are great for this. By getting a testimonial from someone in a position of authority within a certain industry, this shows other potential customers within that industry that they can trust your business to give them the same good service.
If there are certain benefits to your business that you want to advertise (price, customer service etc.) then asking questions tailored to these is a great marketing tool. Getting a customer on camera saying "they gave me a competitive quote and also exceeded my expectations in terms of quality" is priceless.
Customer testimonial videos are a great way of building trust online
There's a lot to think about when it comes to a successful video marketing strategy, but that also means there's a lot you can do to boost your business' sales! With so many options it opens a world of opportunities and will make your business visible to lots of customers who may not have been able to find you without it.
To find out more about how Kennysoft STUDIOs can help you boost sales through a successful video marketing strategy, get in touch with one of the members of the team for a chat.