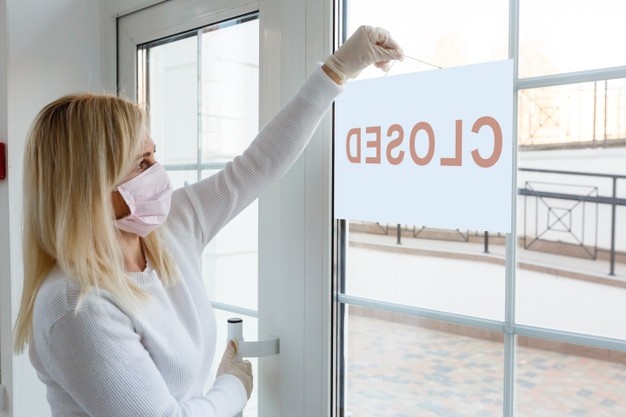 Now we have covid-19, which the whole world is fighting against but before the existence of covid-19… In the history of mankind, lots of diseases have come and gone with different symptoms and in many cases, they have few similarities. One of the deadliest pandemics that has struck the surface of the earth is the Spanish Flu. Lasting from January 1918 to December 1920, it infected 500 million people – about a quarter of the world's population at the time. The death toll is estimated to have been anywhere from 17 million to 50 million, and possibly as high as 100 million, making it one of the deadliest pandemics in human history, behind the Black Death.
Today we have a similar case we are fighting called covid-19
The outbreak of the virus known as Coronavirus nicknamed COVID-19. What exactly is Coronavirus? What effect does it have worldwide?
Coronavirus disease (COVID-19) is an infectious disease caused by a new virus. The disease causes respiratory illness (like the flu) with symptoms such as a cough, fever, and in more severe cases, difficulty in breathing. Coronavirus disease spreads primarily through contact with an infected person when they cough or sneeze. It also spreads when a person touches a surface or object that has the virus, then touches their eyes, nose, or mouth. You can protect yourself by washing your hands frequently, avoid touching your face, and by avoiding close contact (1 meter or 3 feet) with unwell people. There's currently no vaccine to prevent coronavirus disease (COVID-19). Around the globe, scientists in various laboratories have been working continuously to find a possible vaccine to assist fight this virus that has taken the world by surprise. Never was it imagined or thought that in the first quarter of 2020 the world would be held stand still without any war as the cause, but a pandemic. It has gone global with cases in over 150 countries.

The effect of COVID-19 on a worldwide scale is huge. Beginning with human lives, as at when this article is written, there are over 1.8 million cases and 118,000 deaths, with the United States of America accounting for over 570,000 confirmed cases and 23,000 deaths. Human lives are affected seriously in Italy where a minimum of five hundred persons die daily due to COVID-19 spread. It has affected all major football leagues around the world and has pushed the season's league calendar more than expected, and this shift has affected other sports tournaments scheduled for this year such as EURO 2020. It was meant to take place from June 12 – July 12, 2020, but is now scheduled to take place next year from June 11 – July 11, 2020. Other events such as the Tour de France, Formula 1 Grand Prix in Vietnam, and even the summer Olympics Tokyo 2020 are now postponed. It isn't just the sports events but the effect of COVID-19 on the business sponsorships attached to each of these events. How long the epidemic will last and its economic impact is difficult to predict. As a result, the stock and bond markets have entered a period of extreme volatility, leaving investors to wonder: What does COVID-19 mean for the global markets and economy? It turns out to be that the COVID-19 pandemic has given a huge blow to businesses worldwide. Yes, it has. Let's look at some of them.

Effects of Covid-19 On Businesses.
1. Airline Industry: After the presence of COVID-19 in various countries around the globe, governments affected by its presence issued an immediate lockdown of all airports thereby grounding flights coming in or going out of the country. International carriers got the major hit financially than local carriers such as Emirate Airlines, American Airlines, Delta Airlines, Singapore Airlines, Ethiopian Airlines, Lufthansa Airlines, Turkish Airlines; just to name a few. They are all seeking a bailout fund to assist in running operations during this period. Even the International Air Transport Association (IATA) updated its analysis of the financial impact on global revenue, counting its losses for the passenger business to the tune of $63 billion.
On the other side of events, top giants in the plane manufacturing
industry – Airbus and Boeing, have grounded major production activities in all their factories thereby creating a decision that may lead to over 15,000 employees becoming unemployed in each company respectively. This same measure has also affected major airline companies around the globe to ask for loans from governments and banks that run into billions of dollars cumulatively, notwithstanding the layoff of jobs that would surely affect many employees as well at the end of the day. Surely anyone can be a victim of circumstances by being laid off from a job without a quick replacement at the moment. What does the future hold for many when this pandemic ends? Only time will tell.

2. Hospitality & Travel Industry: These industries are different but they are closely related because of the similar activities they share. One field that links them together is tourism which is one of the biggest and fastest-growing sectors in the world today and has been considered as a vulnerable industry i.e. in comparison to other industries as a result of the coronavirus outbreak. The effects of COVID-19 to these sectors have affected business transactions and income as well. One of the dimensions in the tourism sector is the use of Cruise ships in creating a getaway holiday on the sea. Just like airlines, cruise ship companies have seen a drop in demand since the novel coronavirus outbreak grew into a pandemic in recent weeks. The top three cruise ship companies in the world – Carnival Corporation & Plc, Royal Caribbean International, and Norwegian Cruise, alongside others have been deeply affected by the outbreak of COVID-19. They have sought for cash infusions that run into billions of dollars to remain solvent after the industry announced a suspension of operations due to the coronavirus pandemic. Unfortunately, some cruise ships such as Diamond Princess, Ruby Princess, Princess Cruises, Oasis of the Seas, Celebrity Infinity, just to name a few got hit by Coronavirus with the presence of a carrier in their midst. Caribbean countries including Antigua, Belize, The Bahamas, Dominica, Grenada, Jamaica, Suriname, St Kitts, St Lucia, St Vincent, and Trinidad have imposed travel restrictions and a few of them also imposed a curfew as a result of the presence of coronavirus in the country.

Globally, this action does not affect the industry alone, it also has a major effect on SME's that have a business segment locally attached to the major companies in the industry. With a lockdown affecting the closure of businesses and traveling worldwide, entrepreneurs in such fields are bound to face more challenges financially if this crisis lingers because their source of income has suffered as well. Considering the evolving nature of the situation, it is too early to estimate the full impact of the COVID-19 on international tourism. For its initial assessment, the UNWTO (United Nations World Tourism Organization) takes the SARS scenario of 2003 as a benchmark. The UNWTO estimates that in 2020 global international tourist arrivals could decline between 20-30%, down from an estimated growth of 3% to 4% forecast in early January 2020. This could translate into a loss of US$ 30 to 50 billion in spending by international visitors.

3. Supply Chain: There are thousands of small and large production firms with an employment rate ranging from 1,000 – 50,000 that depend on China and Vietnam for pieces of machinery, raw materials and production of goods too. The outbreak of COVID-19 has caused a shaky effect on these businesses thereby causing them to source from other destinations such as India. China is gradually wriggling out of the COVID-19 outbreak in the country with recent statistics at the time of this writing, showing a significant drop in the number of new cases and deaths. Major factories in China are working round the clock to produce ventilators and face masks for highly affected countries like Italy, Spain, and the USA but it hasn't changed the fact that lots of big firms such as Samsung, Apple, Microsoft, just to name a few that depend on China for production of spare parts of their products; have looked within and outsourced the production of their phone parts to countries like India and Vietnam. What does it mean for businesses?

How Businesses Can Cope
The effect of COVID-19 is a wildfire that devours anything it touches without showing mercy. As viruses know no borders, the impacts will continue to spread. Lots of businesses in various sectors around the world would surely face financial loss. The use of the internet for work-at-home activities has skyrocketed more than ever with many firms such as news agencies utilizing it effectively by converting a room inside the home of a reporter to a replicated temporary studio. Even phone companies like TECNO mobile have recently launched and sold phones by hosting an online launch event of their recent device CAMON 15 on April 2, 2020, due to the COVID-19 pandemic. Various online platforms such as Upwork and Fiverr extend the services of freelancers to companies and individuals that require assistance in carrying out tasks related to working online. If you are an entrepreneur, you can still achieve your business aim by working more online via various social media platforms by creating engaging content on your page. Why? Due to this COVID-19 pandemic, over half of the world population are currently indoors 24/7 round the clock and they are regularly online to keep their minds busy on anything being posted. In essence, businesses can grab this open window of opportunity and make the best use of it.
In summary, the world is at a standstill fighting the COVID-19 virus that is causing rampage daily and causing a large number of financial casualties to economies, businesses, and death to humans that have fallen victims to the virus. It is a disheartening situation locking yourself at home with little provisions pending when the government would lift the lockdown, and the reason is that you want to be safe from the virus and alive at the end of it all. When will that be? We do not know. We all pray for this pandemic to end.

The effect of it on various businesses globally is still rising but businesses can adjust to these present circumstances by making use of online platforms to ensure the objective/goal of the firm during Q1 of 2020 isn't defeated. Until this pandemic comes to an end, we all need to adhere to these precautionary:

• Stay at home if your area is under lockdown
• Wash your hands regularly. Sanitize your hands always
• Maintain social distancing
• If you observe any warning symptoms, go see a doctor.
Image credit: freepik
Thinking of partnering with a video marketing agency to help create a marketing video for your business? businesses are going online now so you need to keep your consumers engaged with a well crafted social media video. Then work with us let's help keep your customers engaged.